Hello world, and welcome to Smiles & Frowns! What started off as a real Mom and Pop and Three Crazy Kids story has lead to a super easy-to-use new app – loaded with unique features – that we hope can restore a little more peace and quiet to the lives of parents everywhere.
If you are parent, you've been here before. On some fridge, on some wall, at some time, you've put together some kind of rewards chart to help get your kids on the road to better behavior.
We put ours front and center, right by the front door where it couldn't be missed. Made a big old frame. Nailed it to the wall. So when ours started losing steam, which we found out they all do at some point, we had no choice but to tinker, toy and try to figure out why.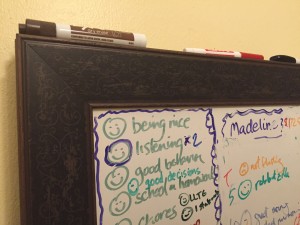 So we just kept working it, in full view of everyone who came in through our door. That's how we came up with our Smiles – Frowns = Spending Power formula. How we got to the 5 Cs approach. How we created new features we didn't see anywhere else. And how it all started working long-term.
Over the years, people seemed to love the little board we called Smiles & Frowns. Other parents definitely wanted to use it. Teachers we knew wanted to try it. And more than a few thought we should turn it into an app, which seems to have found you now.
Is Smiles & Frowns the tool you've been looking for? We certainly hope so. And if you do like it, please point other parents you know in our direction. They more people that join in, the better we can make Smiles & Frowns work for you!
Thanks, and good luck out there...
Tommy & Cass G